Ulyssa Mahzun
[[

]]

Basic Information

Weapon

n/a

DIA

Monkey

Gender

Female

Age

21

Birthday

23rd December

Horoscope

Capricorn

Height

6"0'

Weight

68 kg

Hair Color

Blond (dyed black at the tips)

Status

Status

Active

Relations

Deuteragonist of Project DIA, Ulyssa (yoo-LIS-ə) is the leader of the group, but often leaves the leadership work to Ben due to her laziness. After losing her parents, she is taken in by Naomi (Kaliko's mother) to live with them.
Appearance
Although she is considered to be one of the 'hottest girls in school' by her juniors (fans), she cares very little for her own appearance. Her hair is short and naturally blond, dyed to an Ombré' black at the tips. She rarely combs it, and usually just leaves it looking like a bedhead.
Her wardrobe mostly consists of blue, black and white clothing and hoods, along with yellow V-collar t-shirts that she regularly wears under her uniform.
The left sleeve of of her uniform has the government's symbol printed on it, representing her legal obligation to serve the government to help return the money both her parents owed to them.
Personality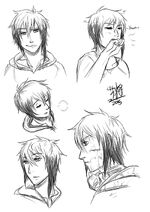 Upon losing her parents, Ulyssa becomes seemingly apathetic to everything, often having a hard time showing any expression on her face besides the look of boredom. She is also extremely lazy, hardly showing any interest in doing any work and at most times avoid mutants rather than help fight them.
She sleeps through most classes in school, resulting in her poor grades and is constantly getting into detention, which she still skips anyways.
She is very protective of Kaliko, and has openly admitted to others that she had liked her ever since their childhood, even if they did fight a lot.
Trivias
Back in 2009, her character was originally a male.
Her name can be pronounced as "oo-LIS-a" or "Alyssa", but the proper pronunciation is "yoo-LIS-a".
Author prefers pronouncing it "Oo-li-sa". :D