Olivia
[[

]]
Titles

 

Basic Information

Weapon

 Naginata

DIA

Moth

Gender

Female

Age

20

Birthday

 13th July

Horoscope

Cancer

Height

 5'9"

Weight

58 kg

Ethnicity

American-Chinese

Hair Color

Red

Blood Type

AB

Status

Status

Active

Relations

 

Extras

Theme Song
Theme 2
Ben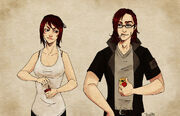 Olivia does not see Ben as her brother, but rather, a best friend. They get along very well, despite their very different personalities. She holds no hatred towards him even though their parents had always favored Ben more.
She tells him all her secrets and sometimes make fun of his squishy personality. Upon running away from home, she cuts off all contact with him, and only meets him again later on in the story.
Kamli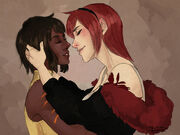 The perfect partners-in-crime, Olivia and Kamli have not been together that long, but share an intimate relationship with each other. Their performance on the field are close to flawless, as stated by their boss.
The two first met when Olivia first escaped the city fences and wound up with the rebellion group.
They currently live together within the rebellion quarters, and Olivia has made it clear to others that she refuses to share her life with anyone else but her.
Ulyssa
Extremely buddy-buddy with each other, the two can easily relate with one another about their problems in their lives, but share no comfort in talking about their issues. Instead, they simply give each other the worst advice and more than often get into the worst of troubles just by being stupid.