Olivia
[[

]]
Titles

 

Basic Information

Weapon

 Naginata

DIA

Moth

Gender

Female

Age

20

Birthday

 13th July

Horoscope

Cancer

Height

 5'9"

Weight

58 kg

Ethnicity

American-Chinese

Hair Color

Red

Blood Type

AB

Status

Status

Active

Relations

 

Extras

Theme Song
Theme 2
Childhood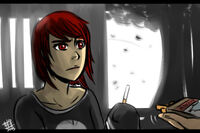 Olivia was generally a good girl growing up, but after discovering her DIA, she became more rebellious and went down a worse path.
This was caused by the fact that her DIA was a Moth, was labelled by the government as useless, and she was not allowed to enter Crowbluff.
Furious, she forced her way through countless mutants on her own, relying only on her own strength. She began involving herself with bad influences, and eventually ran away from home to join the rebellion.
Rebellion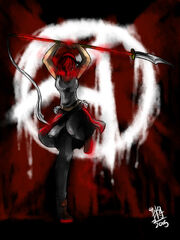 Strongly against the laws of the fenced-off city, she is very active in fighting against the corrupt government, and holds a strong belief that their world does not need these leaders.