Ni Yu
[[

]]
Titles

女瑜

Basic Information

Weapon

Scythe (bladed on both ends)

DIA

Bull

Gender

Female

Age

22

Birthday

27th March

Horoscope

Aries

Height

5'10"

Weight

63 kg

Ethnicity

Chinese

Hair Color

Black (with pink highlights)

Blood Type

O

Status

Status

Active

Occupations

Extras

Theme Song
Ben
Ni Yu is especially fond of Ben, finding his reactions to her presence around him adorable. Able to tell that he is emotionally scarred on the inside, she tries to convince him to be more open to others, and is always trying to put a smile on his often sad-looking face.
Ben is also the only one she is able to communicate properly with, as he is able to speak Chinese as she does. She eventually admits to liking him as well, and overtime, the two unconsciously became a couple.
Kaliko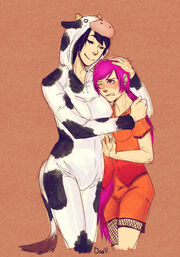 Throughout the story, Ni Yu begins spending time comforting Kaliko in her time of depression, more than once acting like a second mother to her.
The two then develop a close mother-daughter relationship, and Kaliko has openly accepted her as family since then.
Indignel