Ni Yu
[[

]]
Titles

女瑜

Basic Information

Weapon

Scythe (bladed on both ends)

DIA

Bull

Gender

Female

Age

22

Birthday

27th March

Horoscope

Aries

Height

5'10"

Weight

63 kg

Ethnicity

Chinese

Hair Color

Black (with pink highlights)

Blood Type

O

Status

Status

Active

Occupations

Extras

Theme Song

A former delivery girl and art student from the Eastern continent. Ni Yu moved to the Western continent upon having her student application accepted by Crowbluff.
Appearance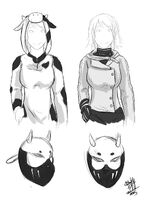 The most notable thing about Ni Yu is the cow
kigurumi
that she constantly wears. It was a handmade gift from her mother.
Her hair is of short length. It is a natural black color, with pink highlights.
She has a strong build, and is very agile and flexible, which helps with the efficient usage of her dangerously designed weapon. She has a habit of not having footwear, and has been seen to walk over uncomfortably hot and sharp roads without any problem.
Personality
Ni Yu has a positive frame of mind, and is a very cheerful person in general. She is a vegetarian, and seems to be very serious in keeping a healthy body and mind.
She is playful and friendly, and although she often makes a fool of herself, is very observant of reading people's feelings and reactions, knowing immediately when they are hiding something. She has also shown to be very motherly towards Kaliko.
Immunity
Ni Yu does not have a gas mask and is immune to the toxic gas. She is not bothered by the stench, and is able to breathe it in without any negative effects on her body. She does not breathe out a colored smoke when inhaling the gas.
It remains unexplained as to why this is the case.
Fighting Style
She is an extremely aggressive fighter on the field, able to handle crowd-clearing and close combat. Even when without weapon, she is able to kill mutants just as effectively with her bare hands.
She is also heavily skilled in hand-to-hand combat, able to easily take down grown men twice her size.
Trivias
The idea for her design came from a student from the author's school that walked in late to a video game talk. She wore a cow kigurumi.
Her name is pronounced "Niu" (牛), the Chinese term for "cow".
She is ambidextruous.
Ben and Ni Yu's pairing name is "RedBull".