Naomi Giancarlo
[[

]]

Basic Information

Weapon

Wakizashi (w/o crossguard)

DIA

Mockingbird

Gender

Female

Age

39

Height

5'5"

Weight

61 kg

Hair Color

Brown

Status

Status

Active

Relations
Kaliko
Her first and only child, Naomi loves her with all her life, and understands why she behaves the way she does. She tries to be there for Kaliko in place of her father, and has more than once sacrificed plentiful to be by her side. She is protective of her, and would give anything to see her happy, even losing multiple jobs for the sake of being there for her.
She doesn't mind Kaliko yelling at her from time to time, and simply loves her daughter unconditionally.
Noel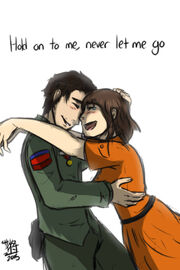 Naomi's husband and Kaliko's father. He left for a major mission with his squad to hunt down a massive mutant one day, and they never came back.
After his disappearance, she never speaks of him and continued to raise Kaliko on her own. Further on in the story, she reveals that she still truly loves him, and has never hated him for leaving his family.