Kamli
[[

]]

Basic Information

Weapon

Naginata

DIA

Tiger

Gender

Female

Age

19

Birthday

12th May

Horoscope

Taurus

Height

5"8'

Ethnicity

Indian

Hair Color

Dark Brown

Status

Status

Active

Occupations

Mechanic

Extras

Theme Song
Theme 2
Orphaned by the war and raised by rebels, Kamli grew up with a strong interest of tinkering with mechanical objects. Her observant skills in reverse-engineering gained her a full-time position in the rebel group as one of their main mechanics.
Appearance
Kamli has dark skin and her hair is a short, dark brown bob-cut with long bangs that frame her face. She also has a red bindi on her forehead.
Her hands are covered with scars from all the accidents she had with tech work, and she usually covers them with yellow work gloves.
On her right shoulder rests orange claw-like marks. They are actually scars from a tiger that attacked her when she was younger, and she had a tattoo artist go over it with an orange color.
Personality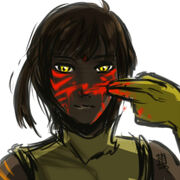 Although she is a bit of a tomboy and is as rebellious as Olivia, Kamli is actually a bit of a neat freak and perfectionist when it comes to her job, and hates messing around when working.
She is also easily embarrassed when someone compliments her and always has a difficult time speaking to others due to her very isolated lifestyle. She is also a smoker.
She is not an active hunter out in the field, and is not a strong fighter by any means, but has shown to become extremely violent and aggressive when driven into desperation.
Kamli is also extremely attached to Olivia, and loves her more than anything. She easily gets jealous when she sees Olivia with anyone else.
Trivias
Olivia and Kamli's official pairing name is "Tigermoth", and their theme song is "Find You ".
She once kicked Elizabeth in the face for just talking to Olivia.