Kaliko Giancarlo
[[

]]

Basic Information

Weapon

Bastard Sword

DIA

Peacock

Gender

Female

Age

19

Birthday

20th April

Horoscope

Taurus

Height

4'11"

Weight

45 kg

Ethnicity

Hawaiian

Hair Color

Brown (dyed Pink)

Blood Type

B+

Status

Status

Active

Relations

Naomi (Mother)
Noel (Father)

The protagonist of Project Dia.
Appearance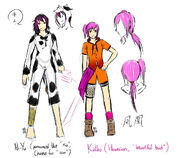 Kaliko is the youngest member of the group. Although she has a small build, she is actually not very agile because of her weapon.
Her hair is brown, but she dyed it pink during her teenage years in an attempt to get the attention of a senior she had a crush on. Her eyes are a striking color of orange, like her mother's.
She is usually seen with a frown, or a look of pure annoyance due to her stuck-up nature. This later becomes less of an occurrence as she befriends the group and stops putting up the act of a spoiled brat.
Personality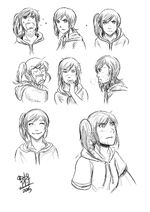 Mean and rude to everyone at first, Kaliko has an infamous reputation in school for being a complete bitch. She enjoys the attention students and teachers in school give to her, and takes advantage of her popularity to get what she wants.
This personality was developed by the neglect from her father throughout her childhood. She acts like she is 'above all else' in an attempt to forget her loneliness.
As the story progresses, she grows closer to the group, and becomes a more open and humble person.
Trivias
"Kaliko" is a Hawaiian name, meaning "beautiful bud".
Back in 2009, her design originally was a pink-haired Miku Hatsune.