Indignel
[[

]]
Nicknames

Basic Information

Weapon

Shotgun (concealed in bag)

DIA

Dolphin

Gender

Female

Age

21

Birthday

25th November

Horoscope

Sagittarius

Ethnicity

African-American

Hair Color

Dirty Blond

Status

Status

Active

Occupations

Extras

Theme Song
Childhood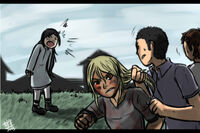 Indignel's parents were both killed during the citizen evacuation of the war, when she was just a child. At this time, the Northern countries began bombarding her hometown. Her parents were one of the many civilians that were left behind to allow for extra room for refugees.
It was there that she met the young Freya and her grandmother, who took her in after the horrible experience.
Indignel was a victim of bullying as the people living in those parts looked down on her skin color. It affected her negatively as a child, as she was not able to make proper friends, and spent most of her time wandering off alone.
Freya, despite her timid nature, always stood up for her against the bullies, successfully telling them off all the time by threatening to call the teachers for help.
Years later, the bullies eventually attempted to cross the line to prove to them who was boss by attempting to assault Freya.
Realizing that her only friend was going to be abused, Indignel finally stood up to them and fought them off, protecting Freya. Badly wounded from the fight, Indignel was hospitalized for months. Within the time, Freya's grandmother had passed away, and the two struggled to live on their own since.
Bounty Hunting
Starting out small by taking on wanted ads with easy mutants to take down, Indignel began working her way up, and eventually used what she had to purchase a customized tactical military Remington 870 shotgun, and obtain the license for it.
She began taking on larger mutants, earning larger reward money. She now aims to save up enough to help Freya open the bakery shop of her dreams.
Protest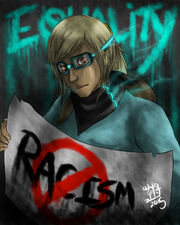 Having been a victim of racism during her years of growing up, Indignel stands strongly against the act.