Indignel
[[

]]
Nicknames

Basic Information

Weapon

Shotgun (concealed in bag)

DIA

Dolphin

Gender

Female

Age

21

Birthday

25th November

Horoscope

Sagittarius

Ethnicity

African-American

Hair Color

Dirty Blond

Status

Status

Active

Occupations

Extras

Theme Song

Indignel (in-DYE-nell, or just "Indie") is one of the few gun-wielding hunters of the Western area.
She lives for Freya, and continues to collect as much money from bounties as possible to help her get into one of the top culinary colleges.
Appearance
Indignel has a naturally dark skin that makes her look like she just got out of a tan. Her hair is a pale, dirty blond color and is often held up into a ponytail at the back by a large, yellow clip. Her eyes are brown, like most Westerners.
She sports a light blue turtleneck sweater with a grey (sometimes white or khaki) pair of Bermuda shorts, though she sometimes dresses in white collared shirts with the long sleeves rolled up to her elbows. 
She often carries a cylinder-shaped bag slung over her right shoulder. The bag holds her weapon secured tightly inside, along with the license sewn onto the inner cover. A single pocket rests near the handle that can be opened to reveal the ammo cartridge of the gun. 
Three claw-like scars rest on her upper back. They were inflincted by a bird-like mutant when she first started out her hunting career.
Personality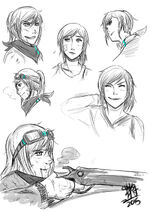 Indignel is an extremely confident person, and takes pride in her marksmanship skills. She also has a bad habit of being straightforward and brutally honest with people, which results in her coming off as offensive. She is the kind of person that wouldn't think twice about a decision, be it right or wrong.
She absolutely hates losing, and would go to extreme measures to win, especially in a hunt.
She has a sharp mind in combat and is capable of immediately planning out the best solution for a tight situation.
Trivias
Indignel and Freya are not a couple, but their pairing name is "Coffee and Tea" and their song is "Story of a Girl".