Drake
[[

]]

Basic Information

DIA

Crocodile

Gender

Male

Age

19

Horoscope

Taurus

Height

5"8'

Hair Color

Red

Status

Status

Active
Bas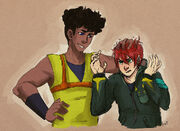 Drake got involved in a fight with the Loonies after attempting to steal food from their stash. Clearly outnumbered, Drake did not back down, and fought off all the members that attacked him. Impressed with his attitude and skills, Bas was the one that openly welcomed him to the group.
With Bas' guidance, Drake begins opening up to the noisy group where he fit into like family. Leading a better life working with the group, Drake found himself looking up to Bas like the elder brother he never had, and even once stated that he owes him his life.
Eventually, Drake discovered his DIA and Bas had him sent to Crowbluff for training and study, much to the boy's reluctance.
Kaliko
Placed into the same class and Kaliko on his first day of school, Drake immediately noticed her standing out from the rest due to her brightly-colored hair. Attracted to her appearance, he develops a crush on her.