Ben
[[

]]

Basic Information

Weapon

Brass Knuckles

DIA

Dragon

Gender

Male

Age

25

Birthday

27th July

Horoscope

Leo

Height

6"1'

Ethnicity

American-Chinese

Hair Color

Red

Status

Status

Active

Occupations

Lecturer

Relations
Olivia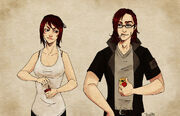 Ben's younger sister. They were as close as best friends growing up, and he would often times have to bail her out of major troubles with the authorities for her rebellious actions. He cares for her deeply and wishes nothing more for her than to be happy.
They cut off all contact with each other after Olivia ran away from home.
Ulyssa
On Ulyssa's first day in his class, he immediately noticed that she had zero interest in studying. In an attempt to help her bring her grades up, he tries to encourage her to study harder.
They easily get along like brother and sister and Ben has more than once seen her as a replacement for Olivia, though he doesn't admit it.
Ni Yu
The very first moment Ben saw Ni Yu during the grouping, he immediately blushed and remained staring at her speechlessly. He enjoys her company very much, and is seen to laugh and smile more with her than with anyone else. Ni Yu messes around with him playfully very often, and he does not seem to mind it, simply looking away in embarassment as a response.