Ben
[[

]]

Basic Information

Weapon

Brass Knuckles

DIA

Dragon

Gender

Male

Age

25

Birthday

27th July

Horoscope

Leo

Height

6"1'

Ethnicity

American-Chinese

Hair Color

Red

Status

Status

Active

Occupations

Lecturer

Relations
Dragon
Ben's mist is red in color, and his DIA specializes in 'Power'. Having adapted well in close hand-to-hand combat for years, he is able to fully use it's potential.
Weapon Choice + Ability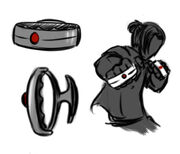 His weapon choice are a pair of black brass knuckles with a red rune laying in the middle of each one.
The knuckles have a smooth surface instead of the normal 'bumps' found in regular brass knuckles, almost like a bracelet.