Ben
[[

]]

Basic Information

Weapon

Brass Knuckles

DIA

Dragon

Gender

Male

Age

25

Birthday

27th July

Horoscope

Leo

Height

6"1'

Ethnicity

American-Chinese

Hair Color

Red

Status

Status

Active

Occupations

Lecturer

Relations
The big-brother figure to the group, Ben is seen by the team as their actual leader. Born of Eastern blood, but raised in the Western continent, he is familiar with how the cultures and lifestyles on both sides work.
Appearance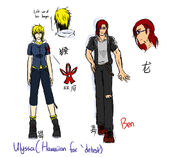 Ben has a muscular build; a result from his training years as an
MMA
fighter and coach. A scar rests on the left side of his jaw, caused by an elbow cut from one of his matches.
His hair is a natural dark red and is of medium length, hanging only slightly below his shoulders. He ties it up into a neat ponytail or a bun when cooking or training.
His wardrobe mostly consists of dark or black clothing with slimfit T-shirts to wear underneath his many jackets. He is also fond of wearing hard boots.
His glasses are blue-framed.
Personality
Wise and quiet, Ben has shown to be a very patient man with exceptional leadership skills. He is also strongly interested in culinary arts, often preparing luxury-level food for the group to eat.
He is not quick to anger, and is able to think calmly in the face of danger, making him the most strategic member of the team.
Despite all of that, he becomes completely flustered and embarrassed in Ni Yu's presence, making it blatantly obvious to many that he likes her
Fighting Style
Ben specializes in close-combat. He may not be able to cover a wide area of enemies, but he is able to pack a literal mean punch.
Trivias
His character is based off the author's classmate, with the same name and similar appearance, who asked to have a character designed after him.
Ben and Ni Yu's official pairing name is "RedBull".