Bas
[[

]]

Basic Information

Weapon

Crossbow

DIA

Eagle

Gender

Male

Age

23

Birthday

10th January

Horoscope

Capricorn

Height

6"0'

Ethnicity

African-American

Hair Color

Dark Brown

Status

Status

Active
Bas is the leader of a well-known treasure hunting group known as the Loonies.
Over the years, they have become a valuable part of excavating the lost technology of mankind.
Appearance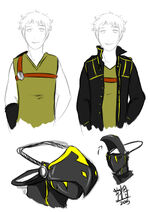 Bas is a dark-skinned male with a strong build. His hair is dark brown, shaved on the sides with a messy fluff on top. His eyes are the uncommon color of blue.
Being very active in climbing and scouting, he dresses in light clothing that allow for maximum movement when out on the field. He has an orange holster that holds a bag on his back, carrying different types of customized crossbow parts that he can use to change the functions of his weapon.
Around his waist is usually a belt that holds a pouch consisting of varieties of crossbow ammunition, each with different effects on specific mutants.
His hands are extremely resistant to pain as he is used to climbing difficult obstacles like trees and rocky mountains with his bare hands, although they sometimes show signs of skin peeling off.
Personality
Bas is a very down-to-earth man with an open mind. He is good around people and has friends and from every corner of the earth.
Supportive of his friends, and always trying his best to be there for them, he is easily likable by many. He is also very modest, and always tries to see the good in people.